Everybody Wellness Clinic
Meet Your Massage Therapists
Massage Therapists Delta
Shane D'Souza
RMT, Kinesiologist and Certified Personal Trainer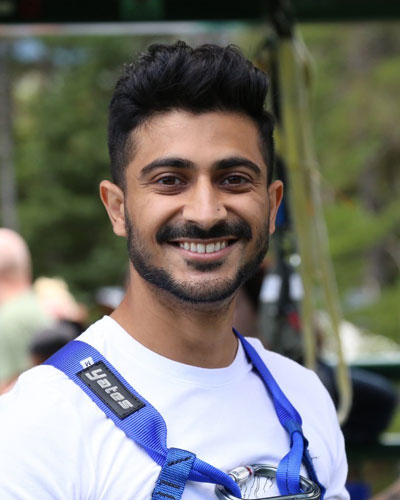 Shane obtained his certification as a Kinesiologist  from The University of British Columbia - Okanagan and has gained experience working in busy and reputed Wellness and Physiotherapy clinics in Kelowna and Vancouver.
Shane then went on to completing his Registered Massage therapy program from WCCMT, New Westminster. He practices as a Full-Time RMT. 
Shane can apply his knowledge of anatomy, physiology and body mechanics to assess an individual's functional movements. He can assist in providing pain relief and treatment of soft tissue injuries resulting from over-use, Motor Vehicle Accidents(MVA), sports or workplace injuries, as well as general disorders such as chronic pain and fatigue. Shane's focus is on active rehabilitation to get his clients back to optimal health. 
As a Certified Personal Trainer, Shane conducts both group and private training sessions for his clients. Shane has also conducted small group training sessions for seniors with disabilities. 
Shane grew up playing competitive soccer with Surrey Youth and Surrey United Soccer Clubs, representing his team at the Provincial level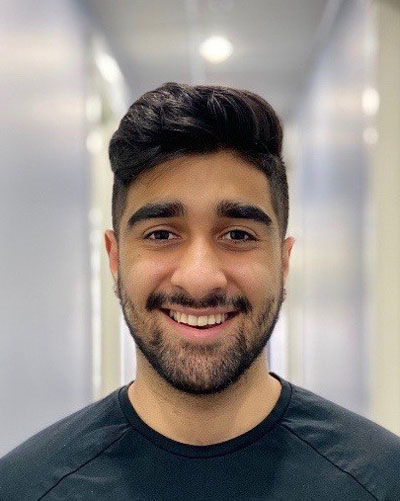 Cody is a graduate of the RMT program from CDI College, South Surrey.  
Cody has treated people from all over the spectrum. From athletes, focusing on pre-and post event treatment, as well as senior citizens, where he spent multiple weeks doing an outreach program. Cody aims to create and implement a treatment plan that is best suited for each unique patient. His treatments include a wide variety of techniques including, relaxing Swedish massage interspersed with manual muscle manipulation and trigger point therapy, to improve quality of life for patients suffering from injuries and aches, whether acute or chronic. 
Growing up, Cody was always involved in recreational sports such as soccer and ball hockey. Additionally, strength training has become a passion of Cody's, helping him to understand the body and the way that it works.
Ramona Sangha
RMT, Kinesiologist
Ramona is a Registered Massage Therapist and also holds a degree in Kinesiology. Since graduating form the Vancouver School of Massage Therapy as an RMT, Ramona has worked in some of the reputed clinics in the Surrey/Delta corridor. 
Ramona brings her experience working with a diverse client base. With her targeted approach consisting of myofascial release lymphatic drainage, joint mobilization and Trigger Point therapy, she has helped many clients get rid of pain and discomfort. 
A believer of an active and healthy lifestyle, Ramona understands the needs of the body. She takes an individual approach to address specific needs of the individuals she treats. She strongly feels that helping her clients through Massage Therapy is not only her job, it's her passion.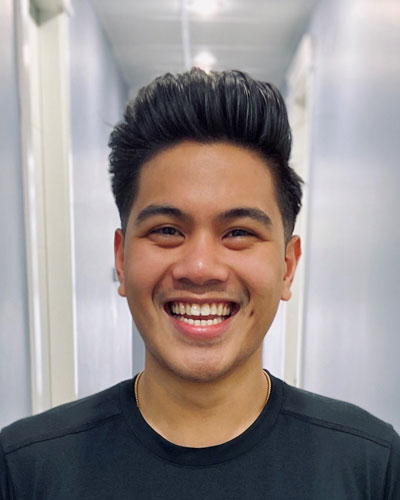 Terrance graduated from West Coast College of Massage Therapy in New Westminster after pursuing a degree from Douglas College in their Kinesiology program. 
He has always been a part of sports in one way or another, growing up with a background in football as well as participating in as many other sports as he can. This experience combined with his knowledge of the human body gives him a strong passion for working with athletes from different disciplines and being able to optimize their performance. 
In Terrance's treatments he will utilize manual techniques alongside joint manipulation and fascial releases in order to restore a neutral posture and unrestricted movement. Each treatment is particular to the individual and what they require for a pain and stress-free lifestyle. 
His hobbies revolve around music; he is an avid drummer and guitarist in his free time. Terrance is currently exploring musician-specific treatments to manage the typical injuries that plague instrumentalists from producing amazing music.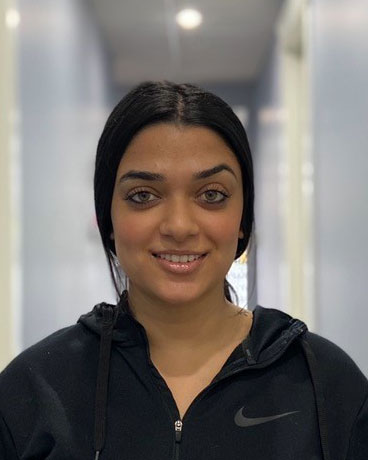 Alyssa, is a graduate of West Coast College of Massage Therapy in New Westminster. 
After High School, Alyssa, studied and received an Undergraduate degree in Human Resources. While working as an HR Specialist, she continued to focus on extra curricular activities, like competitive soccer and made many friends in the sports and Health sciences field. This eventually led to an interest in following her passion for Health Sciences and consequently joining the RMT program. Alyssa, works extensively with sports professionals and assists them with pre and post game rehabilitation. She also specializes in motor vehicle accident recovery, customizing her treatment plan to focus on bringing her patients back to their optimal health. 
Alyssa strongly believes that massage therapy is beneficial in reducing stress, pain and muscle tension. 
Maria (Christina) Sharma
RMT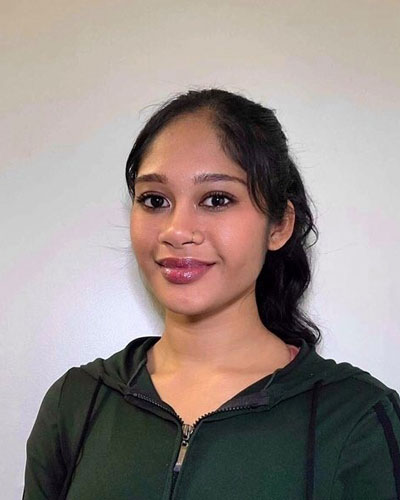 Christina began the Registered Massage Therapy program in Kelowna, BC at Vancouver Career College before transferring halfway through her studies to CDI College in South Surrey. Eager to be closer to home, she completed the program and graduated in December 2019. During her academic career at CDI, she applied for a job position at a spa where she worked as body worker, allowing her to advance her practical and communication skills.
Prior to becoming an RMT, Christina studied Psychology at Langara College before she decided to enroll in a more hands-on program. As the world of massage therapy had shaped a majority of her childhood through her grandmother, Christina found herself drawn to the program due to her desire to help others by improving their mobility, minimizing pain, and replenishing their emotional and mental well-being.
Christina has been introduced to a multitude of medical conditions and injuries due to her experience in numerous settings and has used this knowledge to better understand her patients. In her practice, she enjoys using a variety of techniques in order to attain her desired outcomes and goals. These modalities include swedish massage, myofascial release, joint mobilizations, and trigger point release.
Based on her ability to utilize her knowledge on human anatomy and kinematics, she focuses on addressing the specific needs of each individual patient by detecting the source of their complaint and is determined to help others while sharing her passion with the world.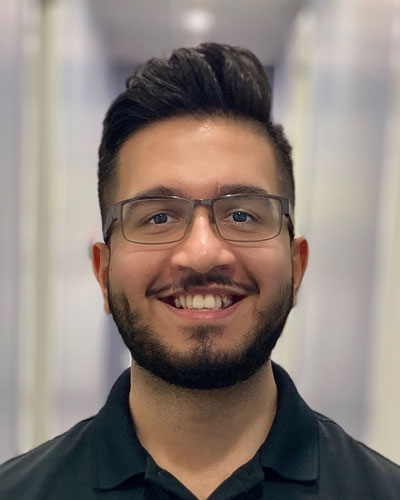 Pirtpaul graduated from CDI College in the Registered Massage Therapy program. He has experience treating people who have or had neurological conditions such as herniations, parkinson's, multiple sclerosis or even simply headaches and soft-tissue injuries.
His most used techniques include swedish massage for relaxation to get the muscles ready for treatment, myofascial release, deep muscle stripping, trigger point release and joint mobilizations to help active range of motion for the patient's joints. The treatments for new patients will always include detailed history taking to find the most possible reason as to why the patient is experiencing pain. Furthermore, the treatment ends with giving the patient home care, either stretching or strengthening a specific muscle or muscle group with isometric, concentric or eccentric contractions to help ease pain.
In his free time Pirtpaul likes to work out and stay active, and he also enjoys watching science based videos on how to achieve the most natural gain in muscle and fat loss.
Sunny Sharma
Student Therapist
Sunny, has successfully completed her Massage Therapy Course from CDI College in August 2020. Sunny writes her board exams in March 2021 to obtain her RMT license. In the interim, Sunny will be working at EveryBody Wellness as a Student Therapist. 
Sunny has 7 years experience working as a Physiotherapist in a hospital setting. She also has experience treating a variety of patients with neck pain, low back pain, sciatica and many other orthopaedic and neurological conditions. Motivated to help her patients recover from their injuries is a passion of hers. 
During her free time, Sunny enjoys spending time with her husband and children.